Downtown Denton's Supper at Sunset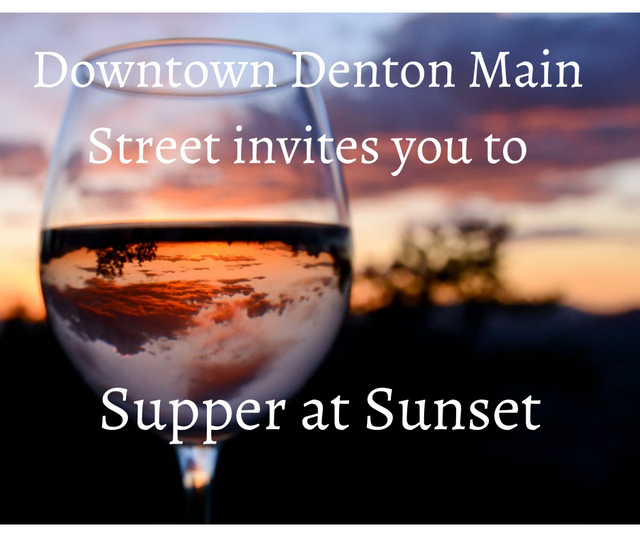 Description
Supper at Sunset is the primary fundraiser for Downtown Denton Main Street. Proceeds will go towards a grant program for Downtown Denton Merchants.

About this Event

Enjoy a 4 course meal with wine pairings while supporting Downtown Denton Main Street.
Downtown Denton Main Street invites you to dine in the company of your friends and neighbors at Supper at Sunset on September 26th! Rain Date September 27th.
The dinner will be 4 courses paired with wine from Triple Creek. Triple Creek will be discussing each wine as they are served with the course.
Menu
Bruschetta: Local heirloom tomatoes, Mozzarella, Basil, Grilled Crostini paired
Garden Salad: Local Green, Tomato, Cucumber, Onion, Citrus Vinaigrette
Main Course:
Sliced Filet of Beef, red wine reduction &
Garlic and Lemon
Grilled Shrimp
Mashed Red Potatoes & Herb Roasted Vegetables
Berry Cobbler Fresh Whipped Cream
Please state any dietary needs i.e. vegetarians, gluten free etc.
Tickets are on sale now. $60 per single person, $110 for a couple.
Due to covid-19 we will only be seating people in parties up to 6. When purchasing your ticket please let us know the name and size of your party.
Thank you!
---
Caroline Culinary Arts Center
512 Franklin Street, Denton, MD 21629
6:00 PM EDT
to 9:00 PM EDT
price
Private:No
RSVP Required:Yes
Accept Registration Online:No