Featured Business: Defining Moments Salon & Spa
---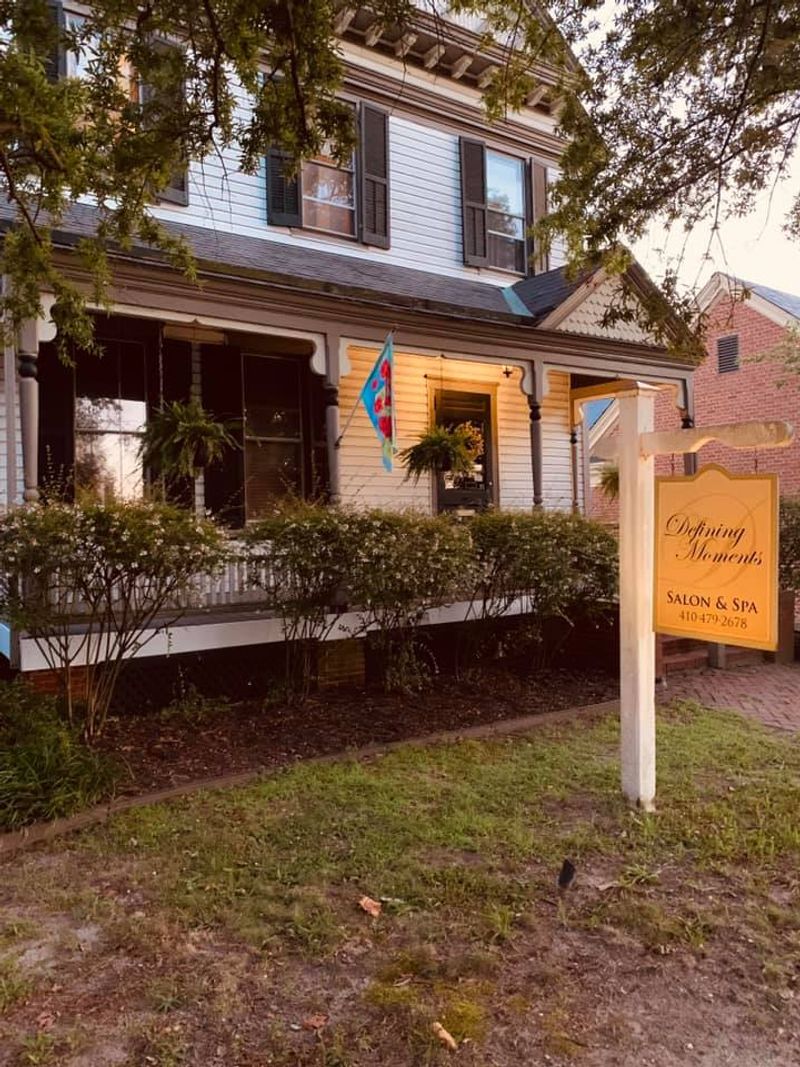 This month's Business of the Month, Defining Moments, gives us some advice on navigating the occasional COVID-induced stress of at home haircuts and dye jobs, thankfully!
Tell us about "Defining Moments" -- where is it located, what are your hours, how can I schedule an appointment? How did you decide on the business name? It's quite catchy!
Located at 106 Market Street, Denton, Maryland, Defining Moments is open by appointment only for guest safety and convenience. A brief hair interview is suggested so the necessary amount of time can be scheduled for and between appointments. Call the salon to leave a message (410-479-2678) and you will be contacted about your appointment.
The salon name came from the services we provide being a defining moment in your life: job interview, graduation, back to school, dance recitals, weddings, prom, homecoming, date night, girls night out or just some self-care time to make it a defining moment!
When did you know you wanted to start your own business? What was the first step you took in reaching that dream?
Going into high school, I completed the cosmetology program. Prior to school, I volunteered at a local in-home salon—they were popular in the 90s. I loved making guests feel uplifted and encouraged about themselves! At that point, I wanted to become a defining moment in each person's life!
The first step in reaching my dream was completing the Caroline County Career and Technology Center cosmetology program. I became a licensed cosmetologist in January 2004. I rented a station at a local salon and was offered an opportunity to purchase Janet's Beauty Shop. Janet's was an established business for over 55 years. I purchased it with the graduation money I had been saving to purchase a salon in the future.
How important is family support in the success of a small business?
Family is number one priority for me and Defining Moments. The salon is family friendly and family run.
Could you talk about the process of product selection and inventory management? Any helpful hints for small business owners?
We choose products to meet our guests' needs, as well as companies that support our work and industry! Organization is the key to success in any business. Customer service as well.
If a client comes in for service but really doesn't know what they want, how do you help them make the best choice? Do you encourage or discourage making "BIG" changes?
When visiting our salon, we talk about your daily hair routine, and your self-care goals. We discuss the product use, etc. When choosing a color or style, we consider your daily routine, and the type and texture of your hair.
We encourage you only to be as brave as you desire! Each guest is different. If we feel the big change would be a success, we encourage it 100% and if not, we discuss the positive reality!
What's the best bit of self-care advice you can give to those of us postponing beauty shop, hair salon and barbershop visits during COVID? What should you do if you cut your own hair during the restrictions and made a mess of it -- asking for a friend...
Our best bit self-care advice is: "Keep up and you'll be kept up." (a quote from our local yoga instructor), and our motto is: "The rest of your life begins today so, make it a defining moment!"
To achieve the best COVID hair repair, visit your local salon with safety procedures in place!
Defining Moments
106 Market Street, Denton
410-479-2678 | Facebook