Downtown Denton Main Street Gift Card: Keep Your Dollars Local
---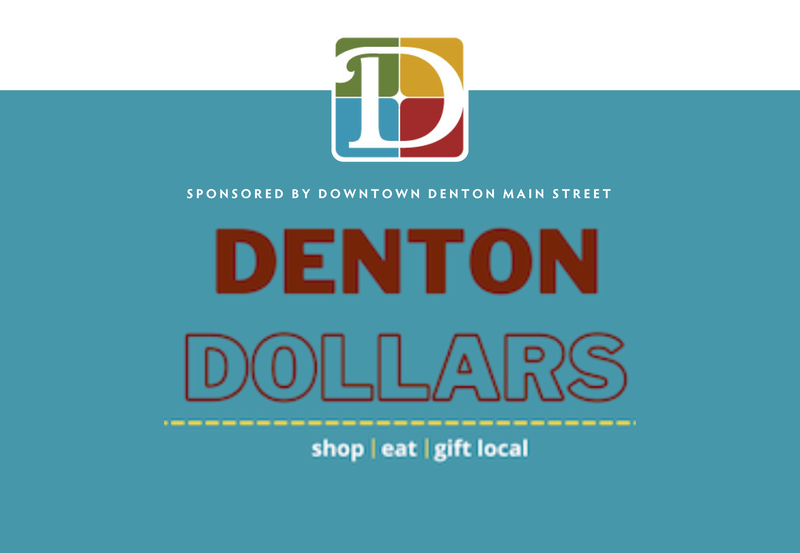 By: Sherry Perkins
Gift cards. Who doesn't love them? They're easy to use and especially convenient when trying to buy something for that person who has everything or who is so, so picky about what they want or when you don't know what size they wear. And some gift cards are attached to rewards for you, the purchaser. When you stop to think about it, gift cards are a win-win situation, right?

That being said, Downtown Denton Main Street has the perfect solution for your gift giving needs. You guessed it, it's a gift card! This card comes with a reward too—if you purchase a card for $25, you get a $10 card for your use; for $50, you get $20, and for $100, you get $40 (while supplies last).
The cards are simple to purchase online through the Downtown Denton Main Street webpage (click here to purchase.) Simply select your desired amount and next, send the gift card via email or text to the recipient. Then, the recipient can use the card electronically at any participating Downtown Denton merchant. The list of participating merchants is a large representation of local merchants and is growing every day.
What is particularly nice is that purchases made on the gift card keep your dollars local, supporting local businesses for the small business owners you know and trust! We can't thank-you enough for shopping local since when you purchase local, you reinvest in your community and that's always a good thing.
The wide variety of merchants participating in the gift card program makes giving perfect birthday gifts, graduation gifts, holiday gifts, thank-you gifts, weddings gifts or everyday gifts for children, teens, and adults easy! There is truly something for everyone whether you're shopping local retailers for products, restaurants for yummies, or service-providers for spa and beauty or barber shops experiences.
Corporate patronage opportunities also exist. For instance, your company could purchase the gift cards for bulk purchases, employee rewards, customer appreciation, holiday and welcome gifts, or worker incentives.
I don't know about you, but I have my eye on a few things that I could use my reward card on after I send these gift cards to my granddaughters. Hope to see you in town soon!