Caroline Summerfest: August 20th & 21st
---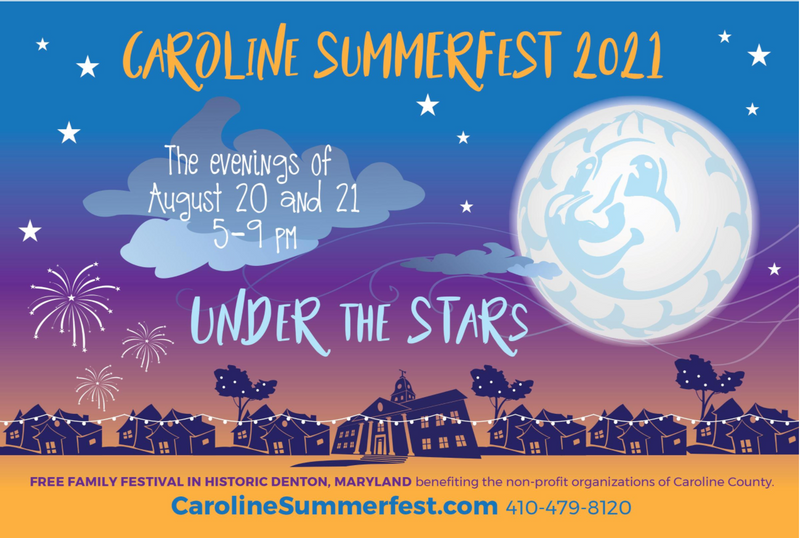 Bright fireflies, steamed crabs at the picnic table, buttery corn-on-the-cob, iced watermelon, and Summerfest—it's how you know Summer is officially here! Summerfest has been an annual occurrence in historic Downtown Denton since 1988 (except last year) with quite a few memorable themes, performers, and vendors.
This year's Summerfest theme is "Under the Stars." Vendors are encouraged to decorate stalls with the under the stars motif. A winner will be selected from among the participants. But there's something for everyone including free fun and family activities beginning August 20th at 5:00 – 9:00 PM.
Participating vendors offer crafts and food. No, you can't have steamed crabs at the picnic table, but you can get crab cakes, fried oysters, hamburgers, sausages, funnel cakes, and fries! Ice cream and icy cold beverages will be available for purchase.
Crafts are varied and occasionally whimsical but exactly what you wanted. Although some favored vendors are returning there also will be new faces at Summerfest. When possible, crafters will provide interactive demonstrations or instruction of their work.  Leather goods, homemade soaps and fragrances, jewelry, fabrics and more will be for sale.
Please take advantage of the opportunity to say hi and ask questions about crafts. Who knows? You might come away from the experience with more than something homemade. You might learn an exciting new hobby!
Festivities kick-off with the annual Rivah Run, a two-mile canoeing event with prizes. There is a car show, the much-enjoyed Kidz Art, rock wall climbing, sand pits and sculpture. You can even have a ride on a fire truck.
Plus, the strolling entertainers are always a treat during Summerfest. The on-stage entertainers are too. But the most anticipated event is the spectacular firework display on the final night and why wouldn't it be? Fireworks are, after all, the perfect expression of fun under the stars!
Find out more at carolinesummerfest.com.