Featured Attraction: Friday Night Cruise In
---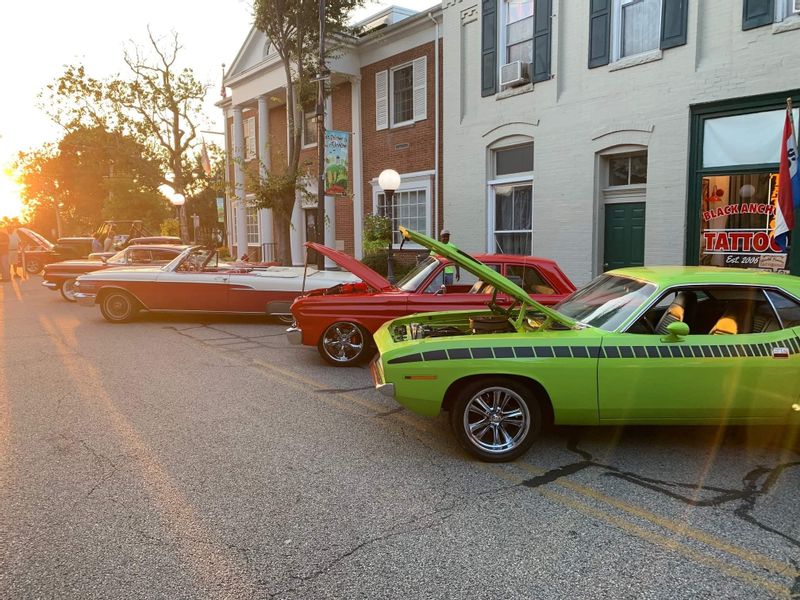 What does a Cruise In have to do with the Denton by-pass diverting beach traffic from Downtown Denton? Well, Denton Cruise In explains it all in this plan to promote auto shows, generate continued interest in visiting Downtown Denton businesses and restaurants, and have some fun!

Friday Night Cruise In, you're a bit different than our usual business of the month because you don't sell a or provide a service per se. What you do provide is camaraderie, and plenty of it (with style)! Could you talk about the decision to form the Cruise In? How did you come together as a group?
The Denton Cruise-in started ten years ago when I was elected to the Denton Town Council. When a by-pass was built around the town, the stores in Denton were not doing well. I wanted to bring in people to show we still had stores open for business. I knew that classic cars always generate a crowd, so I thought that bringing classic cars and parking them on Market Street in the middle of town would be worth trying.
What can I expect if I show up at a cruise in?
I want everyone to come out and have a good time, so I've tried to make it as easy as I can. We are adding something new this year and that is RC cars drag racing on Market Street. I have wanted to have something for the younger crowd and maybe interest someone in the RC car hobby.
Where are cruise ins usually held?
We meet at several restaurants on Market Street and Mr. Dobson is there with his hotdog stand. There is sidewalk seating at the restaurants.
Is there a difference between a rally and a drive in?
We are a Cruise-in not a rally. Cruise-in means you "cruise" to your destination and a rally is a race where you receive a list of roads you must take to get to various check points.
You've done some benefits and themed drive ins. What's that process like? Could you share some of the past benefits or themes you've done? How do you get the word out about them?
I present one trophy and it may be for a theme or I'll have a person of interest choose the car that receives the theme trophy. My favorite theme so far was the car most likely to outrun the police. The chief of the Denton police and several officers made the choice. Normally, the Maryland and Delaware car clubs get together in March and discuss when and where the clubs will be putting on shows. Because of COVID, those meetings did not happen last year or this year. I've asked several radio stations to give us a mention and I've contacted as many of the car clubs as I can. I've been putting fliers up in auto parts stores and I've even chased down a nice car and present a flier.
If you could give one piece of advice you've learned from your experience in working with cars and the club, what would it be?
All I ask is that anyone wants to enter a car and has not been to a Denton Cruise-in to please call me and I will give you directions to our staging area. It will save us from a lot of chaos.