Fall Events in Downtown Denton
---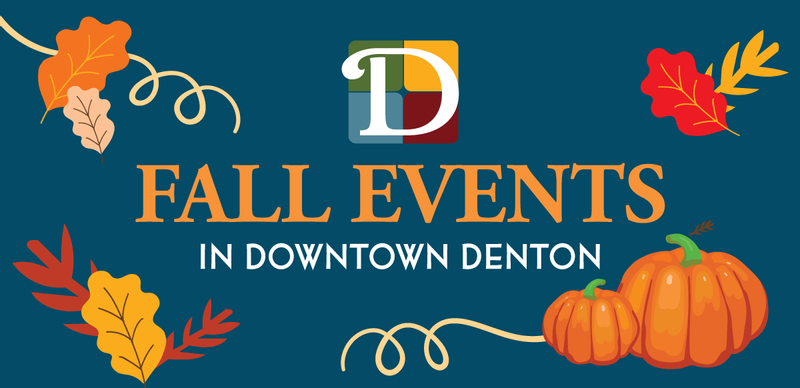 A change is in the air. Cool, crisp evenings are here. Leaves rustle underfoot. It's finally sweater wearing time and you know what that means—fall has arrived!
But you know what else comes with the Fall season? Downtown Denton has its autumn programs!
Downtown Denton Main Street has our Great Pumpkin Event on Saturday, October 8th from 10:00 AM through 2:00 PM. We will be at the 3rd Street Green (Old Dollar General) Officially, this is the final Farmer's Market event of the year. It's open for our local farmers, bakers, crafters, and artists to offer their one-of-a-kind wares to the community. There will be live music performed by Ellie Rose Guzman. Kona Ice and Pizza Empire will also be with us on the green. Plus, there are pumpkins! A lot of pumpkins. There will be pumpkin painting and mask making. Just pick out your pumpkin and bring it to our table to paint. So, grab a sweater and come on by—we'll have a great time where you can purchase a pumpkin and something crafty or home-grown to show for it.
While you're in town, be sure to check out our wonderful shops, restaurants and cafes that will be open.
You could stop by the Faith & Blue Weekend, starting at 11:00 AM through 1:00 PM. This is your chance to have a coffee with local law enforcement and faith-based leaders for a bit of a chat, resolution, and unity. Come around to get to know our community police officers and clergy better.
Did you know the Craft Bakery is celebrating its first birthday! They are located at 12 S. 3rd Street. Between Thursday, October 6th through Saturday, October 8th, Craft Bakery will be celebrating by offering giveaways, slices of birthday cake, coffee specials, and apparently there will be sprinkles. Many, many sprinkles. Check out their Facebook page for more information.
Then on Thursday, October 13th from 4:00 PM to 6:00 PM, the Arts Council is having an Open House. Open house, if you haven't been to one yet, is a pleasure and an adventure! You can visit the Foundry, browse and shop the Art Gallery, socialize, and meet the Artist in Residence, Rose Jeon. Rose is happy to explain her creative process while she works at her craft. You won't be disappointed, and you'll leave with the perfect piece of art!
BTW, have you heard we have a hotDesk Co-Working Space? This is a space where entrepreneurs and collaborators can meet in a shared space to discuss ideas or to work. There is a conference room, white board, wifi, network printer, shredder, digital monitors for networking or media needs and did I mention the coffee station? The space is accessible 24/7 with card access. A membership is required. Membership plans are very affordable and available for all levels of small and start-up businesses. No excuse to put off your dream of having your own business anymore, not when hotDesk can get you started and keep you going.
Finally, on Saturday, October 29th, we close out the month with the a Caroline County Chamber of Commerce sponsored event. Mactoberfest! Mactoberfest is quickly becoming an annual favorite with its delicious and innovative macaroni and cheese competition. Because, really, who doesn't like macaroni and cheese? Be here between 11:00 AM and 3:00 PM for some "gouda" fun.
Hope to see you soon!